Former Bryan Stow Beating Suspect Speaks Out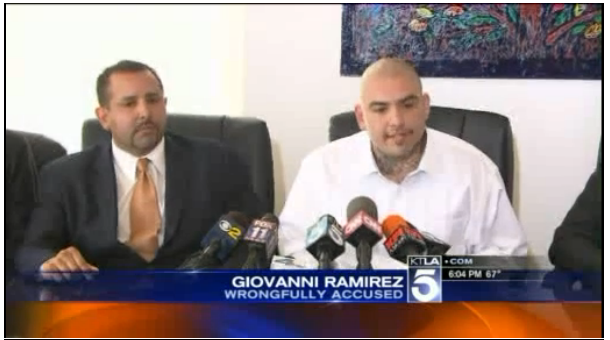 KTLA News
8:10 AM PDT, March 23, 2012
LOS ANGELES, Calif. (KTLA) — Giovanni Ramirez, who was suspected in the beating of San Francisco Giants fan Bryan Stow last May, spoke out Thursday about his arrest and had a message for the man he was accused of attacking.
"My heart goes out to his family, everything that happened. I mean, even if they might have thought it was me at one point, I hold nothing against them," Ramirez said at a news conference.
"My heart goes out to them and I wish them the best."
Ramirez was never prosecuted for the beating and was released on Saturday after being sentenced to 10 months for a parole violation.
"I have never been to Dodger Stadium in my life," said Ramirez at the news conference.
His parole officer had tipped off detectives to Ramirez as a possible suspect in the days after the brutal beating that left Stow in a coma.
Stow, a paramedic and father of 2 was beaten into a coma in a Dodger Stadium parking lot on opening day last summer and was hospitalized for months.
He continues to recover in Northern California.
The LAPD defends its arrest and incarceration of Ramirez and says it followed standard, established procedures throughout the investigation.
Two other men, Louie Sanchez and Marvin Norwood, were later arrested and charged in connection with the Stow beating.
Only KTLA cameras were there as Ramirez listened to an LAPD commander read from a prepared statement, responding to his news conference.
"They made me out to be some monster, and I'm not," Ramirez said.
Ramirez reiterated that he has never been to Dodger Stadium, and said that he's not even a sports fan.
Ramirez also said police were "giggling" when they arrested him.
"They really believed they had that person," he said.
Asked if he wants an apology from the LAPD, Ramirez responded, "I think it's a start."
The LAPD has admitted it was wrong, but no apology has been forthcoming.
Despite that, Ramirez says he's ready to move on.
Asked what he wants to do now that he's free, he had this response: "Disneyland. I want to take my daughter toDisneyland."